Spey Casting Made Easy, Spey casting salmon fly fishing course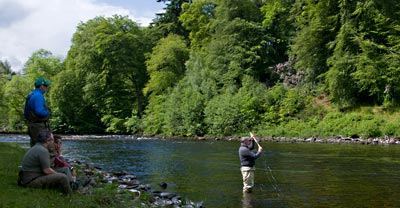 Spey casting tuition by Ally Gowans at Kenmore
A great opportunity to enjoy learning salmon fly fishing techniques and casting from international fly fishing instructor, writer and inventor of some of the World's best salmon flies Ally Gowans APGAI. Alexander Taylor, author of superb book "The Longest Cast" says "Ally Gowans – you'll never find a finer fly fisherman anywhere in the world, and he's a streak of luck like you've never seen. Learning from him was a pleasure."

"Spey Casting Made Easy" is an all-inclusive package that aims to teach efficient salmon fly casting and fly fishing (including fly tying) and is suitable for beginners or more experienced anglers. They will learn how to cast easily and efficiently and how to assess conditions to employ the most likely tactics for success with salmon fishing. The Spey casting course is suitable for private groups of 3 to 8 persons and may be arranged at a suitable venue of your choice.
Overview of the school objectives and curriculum.
This is a rare opportunity to share experience and knowledge with Ally. The full amount of course fees (or balance as appropriate) must be paid by 28 days in advance of the school, otherwise the booking will be cancelled. Course Fees are non-refundable from 28 days in advance of the school on any bookings cancelled. All types of salmon fly casting and fly fishing methods are covered including Spey casts, Underhand casts, Circle C, Double Spey and Overhead casting using Spey lines, shooting heads and Skagit lines.
Feedback from the course evaluation forms:

Very enjoyable course. Friendly atmosphere made the course a pleasure to attend. Well set out objective and well delivered. Would highly recommend it.

I thought the course was superb and great fun. I think and hope its given me the tools to go away and build on for years to come.

A lovely occassion Ally; I am a bidder for a trout course. and because I so spastic I may come back to be re-trained on this one!

A very interesting and enjoyable course. Great instructors.

I've still got a long way to go but I'm feeling heaps better. Lots of individual attention and a wealth of advice from Ally and Andy. It was great, I'll be forever glad that I came! The whole lot was useful, don't change a thing. Thanks so much - Bob

A great course. Thanks for everything I would love to come for another session next year after some more practice. - Mark

Excellent personal tuition throughout - Barry

What you need to bring. The only real essentials that you will need are suitable eye protection (sunglasses or the like), outdoor and waterproof clothing. Rods, reels can be provided free for use during the course sessions. Guests are however encouraged to learn with their own equipment because that instills confidence in what you are using.

Additional Information. Alastair Gowans, AAPGAI and FFF Master Fly Fishing Instructor, APGAI, Pitlochry, Scotland. Tel 01796 473718