Fishing vacations, short breaks and trips - day trips
Hans Edman with a Tay salmon
Fishing trips for salmon and trout to various rivers in Highland Perthshire and beyond. Excellent fly fishing opportunities within easy distance of Edinburgh, Glasgow and Aberdeen. Short notice bookings are often possible but of course demand is high for the best venues at the best times and so it is advisable to contact me early to get first choice. Everything that you need to go fishing can be supplied, including waders. All you need to have is suitable outdoor clothing and sunglasses. Packed lunches refreshments and snacks are included where requested. Transport can be arranged from any of the major airports, stations etc. Pitlochry is situated on the main highway A9 25 miles north of Perth and has good rail and road communication links. Edinburgh Airport is one hours drive and Glasgow Airport is two.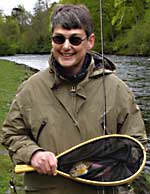 Alison Brooks with her first trout!
Trips are available every day but please note that salmon fishing is not allowed in Scotland on Sundays. Trout, grayling and pike fishing is plentiful and usually easily obtainable. Please contact me for any fishing advice or to discuss details for a trip. I will do my best to help make your Scottish fly fishing experience enjoyable. flyfish-scotland is run by a fishing fanatic for anglers of all ages, experience and skill levels and aims to provide top quality efficient and friendly service. Hope to hear from you soon. E-mail to info@flyfish-scotland.com. Gift Vouchers are available.
What my customers say
I have been back at my desk for a week now and am missing vacation time in the UK, we had a lot of fun and were very fortunate to enjoy pretty reasonable weather. Anyway, I wanted to write briefly and say that it was great to meet you and to thank you very much for your time, patiently talking me through my casting problems. Next time we will fish, although I should plan to visit at a time when the salmon are running. Hope all is well with you. All the best - Martin Russell
Just a quick note to say thanks for a great time!! All the boys thoroughly enjoyed themselves and all commented on how good the fishing was despite the hauls. Size isn't everything. The quality of training was superb and as I told them only the best is good enough!! Well we are all back to work and struggling along. Once again many thanks - Jason
I just wanted to drop you a line saying thank you for the fly fishing lessons. Scott and I had a great time and it was actually the highlight of our trip. We will hopefully put into practice what we learned there soon. The sun is shining brightly here in Seattle looks like a perfect day for fishing.Take care, Shannon Haynes (Seattle)