Fly fishing adventures arranged for you - let's fly fish together
If you would like a vacation fishing for salmon, sea trout and brown trout in lochs and rivers in Highland Scotland read on. Fishing in a new area is looked forward to with hope and expectation. With that comes a feeling of helplessness. Where to go? What to fish for? When are the best times? What flies, rods, reels, lines, are needed? How do I get there? Where to get permission? What are the regulations? And so it's the anglers turn to feel a bit like a fish out of water, or worse still, lost!

flyfish-scotland is able to provide you with local advice, contacts, experience, tackle, flies, accommodation, transport, instruction and indeed everything else humanly possible that you might need to make the best of the prevailing conditions. The weather and the mood of the fish are completely out with our control but both provide useful excuses on the bad days!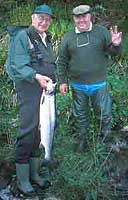 My guides will encourage you to fish when the fishing is best. If that means starting early or finishing late then be sure we will be there without a quibble. Fishing can be arranged anywhere in Scotland subject to availability and for salmon fishing early booking is recommended.

The salmon rivers Tay, Tummel, Spey, South Esk, North Esk, Thurso and Dee are popular with visitors. Trout fishing is available on a huge number of rivers and hill lochs, especially in Perthshire, Angus, Caithness and Sutherland and throughout the Highlands. Come with the wrong tackle or without tackle and we will provide suitable equipment, flies and waders. For advice on tackle for trout and salmon fishing in Scotland see the trout and salmon pages. As you might imagine, with such a variety of rivers to choose from the seasons and "best times" vary over the length and breadth of the land. Being in the right place at the right time is one of the secrets for successful fly fishing. Please contact me for any fishing advice, or to discuss packages to suit your requirements. I will do my best to help make your Scottish fly fishing experience enjoyable. flyfish-scotland is run by a fishing fanatic for anglers of all ages, experience and skill levels and aims to provide top quality efficient and friendly service. Hope to hear from you soon. E-mail to info@flyfish-scotland.com.
What my customers say
Thanks for your help and perseverance last week. Christine and I had a most enjoyable holiday with many memorable events such as catching the Salmon last Friday and you falling about laughing at my attempts to catch brown trout at Chinese. I learnt a lot about fishing and life and came back enthused and ready to fish on the Wye. Thanks also to your wife for organising the lovely food, especially the custard slices. Hope to see you again next time I come up to Pitlochry. Tight Lines - John Symonds
Just wanted to let you know we got home safely, and to thank you again for a great fishing weekend in Scotland. I think we started the boys (and myself) on something we can do for a lifetime. I appreciate your patient and calm style of instruction, to which the boys really responded. And, what great scenery and heritage to go fishing in! Thanks, Tom Hunter
Thank you for the wonderful day's and fishing knowledge you gave us this weekend. We are never going to forget the things you learned us. We hope that we can come back next year for further experience. The photo's you gave us are very nice, thank you again for putting theme on a cd. The one I took are also ok but some of them have a watery view!!! I think Danny got the fishing disease and will go fishing every time we are in Scotland. We are even thinking of driving to one of the trout rivers we have here in Belgium. As we are talking about fly fishing with other friends, it is becoming very trendy in Belgium, you are not going to play golf or tennis, you have to go fly fishing !!! As you can hear, we are full of our new sport fly fishing. Kind regards, and thank you again Ally, Jan and Danny (Belgium)
Now we have returned to home, work, and all the other stuff, looking back on those few days we had with you in Scotland last week remain as wonderful memories. Thank you very much from both of us for your tuition, patience, experience and knowledge, all of which helped us to have a great time. All of the areas were spectacular, the weather helping with the ambience, if not the loch fishing! The Dee in particular was remarkably beautiful. Richard & Gill West
Just wanted to thank you for a wonderful fly fishing experience that I hope we can continue here. The rest of our trip was beautiful but the fly fishing was definitely the highlight. We enjoyed spending the time with you and appreciated your good humour and the care you took to make sure we were having a good time. It couldn't have been better (well maybe a little less wind) and that was thanks to you. Your information on the rest of Scotland was also very helpful. Hope everything goes well in Denver. Thanks again and let us know if you come this way, Carmen (Washington DC)