Fish Scotland - fly fishing advice to fish salmon, sea trout and brown trout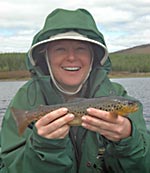 What you need to know about fly fishing Scotland, the common species, suitable tackle and fishing tips for fly fishing it's rivers and lochs. The quarry species are brown trout. their sea run cousins the sea trout and Atlantic salmon. Stocked rainbow trout are also found in numerous put and take fisheries but there are no naturally occurring or self sustaining populations of rainbows in Scotland. Brown trout have the widest range, they occur in almost every loch, lake and river, making them the favourite for anglers fishing Scotland. It is common for minimum size limits to be stipulated around 25cm on natural rivers and lochs and a trout of 45cm would be considered a specimen in most places. Where they have access to the sea and especially if the habitat is not conducive to them growing large there is a tendency for brown trout to migrate to the sea and gain better feeding which allows them to grow larger and produce more offspring. Sea run brown trout are commonly in excess of 1kg in weight and often larger. Fish of over 9kg have been recorded. Brown trout too can grow large, especially where they find other fish to prey upon, such as smaller trout or Arctic charr. Large trout of this type are called ferrox and they are most often caught on baits or trolled lures. If I had only one fly rod for river trout it would be between 8ft 6in and 9ft 3in long and suitable for a #5 line. In most instances a floating line is ok but occasionally an intermediate or sink tip line is useful. Fly patterns representing the natural insects are usually in the size range 16 to 12. Sea trout fly fishing is practiced in a similar way to salmon fishing and it is not uncommon for anglers fishing for sea trout to hook salmon. A stronger outfit is therefore employed. To fish Scotland for sea trout a fly rod of between 9ft 6in and 11ft for line sizes #7 or #8 is normal. Fly sizes and types including singles, doubles, trebles and tube flies are used. Hook sizes 12 and 10 are most common and tube flies sizes from micro up to 1 inch. Floating, intermediate and sink tip fly lines are useful.


If you are fishing Scotland to fish salmon, there are rivers large and small and so it is wise to ask for local advice. Two handed or Spey rods of 15 ft for #10 or #11 lines are commonly used but shorter rods are preferred for smaller rivers. The suggested tackle for sea trout fishing in Scotland is suitable for summer salmon fishing on many rivers. To fish Scotland and allow for various river conditions the angler needs a selection of fly lines or a multi-tip system. Floating, intermediate (or intermediate tip), sink tip and full sinking lines or shooting heads may be required. Sinking line density type 2 is most popular but type 3 can also be required in high water conditions on the larger rivers such as the River Tay, River Spey, River Dee and River Tweed. Salmon flies come in a large range of sizes and types but the most popular are the Ally's Shrimps, dark flies such as Stoats Tail, Munroe, Executioner etc and tube flies. My recommended flies can be seen here.

Nylon or fluorocarbon monofilament leaders in sizes 6x to 3x are usual for river trout, for sea trout 3x to 1x would be normal and for salmon a range of diameters between 0.28mm and 0.45mm will cover the requirements.

Other essential accessories include polarised sun glasses, a hat or cap, insect repellant (from May to October), scissors or clippers and a hook hone. Breathable waders with layers of clothing are the most comfortable. The boots or soles have to be suitable for the terrain and for most of the rivers in Scotland a combination of felt soles and tungsten studs is good. For boat fishing compound soles wellington style boots are more comfortable. Weather can change quickly and waterproof gear should always be to hand and again the breathable fabrics are best.

Suitable fly fishing tackle, consumables and waders can be hired during guided trips or instruction sessions so you do not have to bring fishing tackle with you to Scotland in order to enjoy fishing Scotland.